COMPLETE ASSET MANAGEMENT
Easily Manage and Keep Track of Your Assets in One Place
Get the important information you need about your assets at the touch of a button, including: instrument overview, calibration details and due date, asset tracking and full history.
Complete asset overview with full history
Scheduled calibration reminder emails
Tracking from request and service to drop-off
Track asset progress through the workshop
Designed to Work How You and Your Business Does
Manage all of your assets across multiple estates and multiple users. Designed specifically for large businesses, everything can all be accessed through a desktop computer, mobile or tablet.
Management of multiple locations
24/7 access to online calibration certificates
Multiple permissions levels per user
Calibration compliance analysis across estate
Zero Asset Losses
A full audit trail is kept regarding your asset's information and condition on arrival, to ensure you receive your items back exactly as you'd expect.
Fast Turn Around
We're 100% committed to getting your equipment calibrated, cleaned and sent back to you as quickly as possible. We also offer a fast track option.
Managed Account
From the outset, you will be assigned an account manager who will support you along the way and help you to get your assets into the portal.

Nationwide PASS Fleet
We manage your logistics in house as we operate our own fleet of collection and delivery vans all over the UK. Your equipment will come back to our head office to under go service and then be back with you promptly. You will be able to track progress every step of the way.
Request via the Portal
Requesting a calibration or service is easy, simply complete a quick form on the portal and we'll arrange a collection at a convenient time for you.
Delivery & Collection Receipts
All collections and deliveries have a full audit trail, so you can rest assured that your instruments are in good hands. Everything is signed for, and even photographed, to ensure you get it back as it was collected. This information is all available to view on the portal.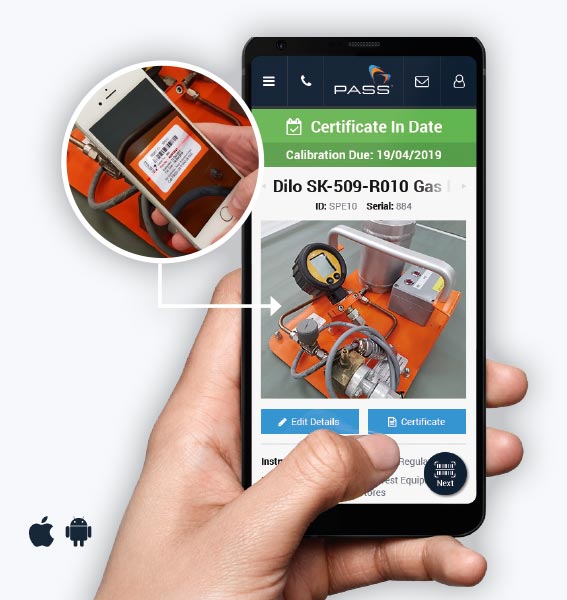 Asset Details in the Palm of Your Hand
Speed up auditing by scanning assets on your smartphone
Get the information you need fast, such as calibration status and due date
Access to calibration certificates on the fly
View manuals and documentation
Give your staff the advantage of the portal on their personal phones/tablets at no additional costs to your business
Available to larger businesses
Works on a smartphone or tablet
SSL verified security for peace of mind