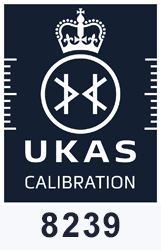 UKAS Accredited Calibration Laboratory No. 8239
Our calibration laboratory has been independently assessed and accredited by UKAS (United Kingdom Accreditation Service) in accordance with the international accreditation standard ISO/IEC 17025:2017.
UKAS Calibration Schedule
Visit the UKAS website to view our full schedule or see an outline below:
Electrical
Ammeters, AC
Ammeters, DC
Bridges and Similar Instruments, Resistance
Capacitance Meters
Charge Amplifiers
Frequency Meters
Insulation Testers
Loop Testers
Multimeters, Analogue
Multimeters, Digital
Portable Appliance Testers (PAT Testers)
Power Supply Units
RCD Testers
Resistors, DC
Signal Generators
Pressure
Gas Pressure Gauges
Hydraulic Pressure Gauges
Frequency
Frequency Counters
Frequency Generators
Frequency Meters
Temperature
Contact Thermometers (Base) – Type E, J, K, N & T
Contact Thermometers (Noble) – Type B, R & S
Specific Point & UKAS Calibration
Print UKAS Request Form
Where there are specific requirements for a multi-point or UKAS calibration, please complete this form.
Download Form
Call for a Quote
Speak to advisers about your UKAS requirements or complete the quick quote form on this page.
Call 01642 626144
If you require the calibration of an instrument which is outside of our scope, we will arrange the collection, calibration and return of your instrument using one of our UKAS-accredited partner laboratories.
About UKAS
UKAS (United Kingdom Accreditation Service) is a government-sponsored accreditation service; it certifies that a company is capable of conducting calibrations to a set of internationally recognised standards. To attain a UKAS accreditation a company must be independently assessed by UKAS to determine that they adhere to internationally agreed upon standards for certification, testing, inspection and calibration.
Having a UKAS certification means that you can trust the accredited company to provide the highest standard of calibration services; so you know that we're a name you can trust.