ONSITE & MOBILE CALIBRATION SERVICES
Reduce Downtime with Our Onsite Calibration Service
We understand how important your test equipment is to your business, therefore, we offer a full onsite calibration service to help minimise downtime and loss of revenue. PASS Ltd's expert technicians specialise in plant, factory and large-scale calibrations.
NATIONWIDE CALIBRATION FLEET
Fully Equipped, Self-contained, Mobile Calibration Laboratories
Our onsite team are qualified to calibrate electrical, process, temperature, flow, pressure and vacuum equipment. We have several calibration vans that are fully equipped, climate controlled and accredited, just like our laboratories.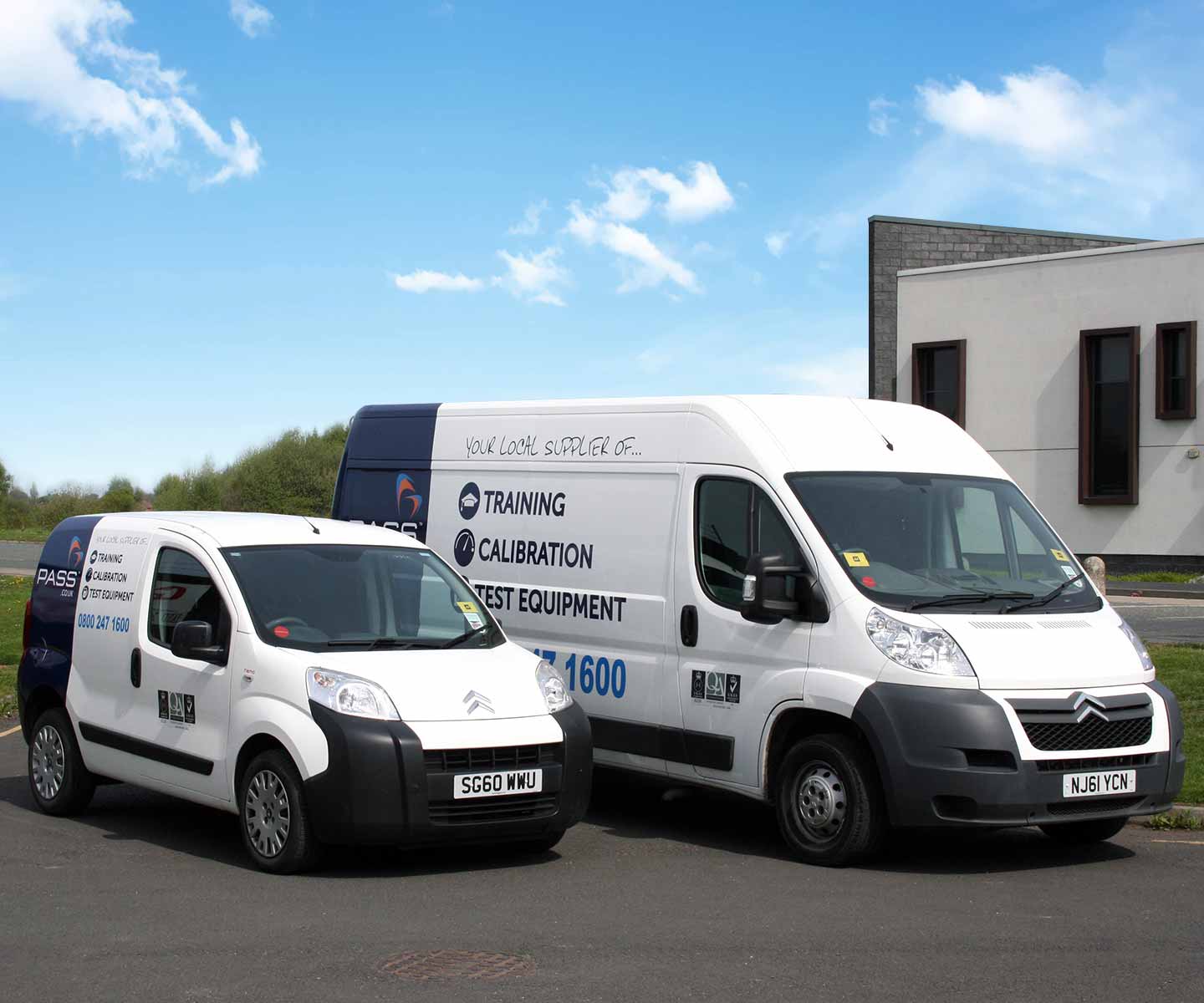 Onsite & Mobile Calibration Services Across the UK
With nationwide coverage, Calibrate.co.uk's onsite calibration services are ideal for companies with a large number of testers or bulkier equipment that can't be shipped easily.
If your equipment is time or process-critical, it needs to be calibrated as soon as possible. We'll organise a time and date for our technicians to visit your premises and calibrate all of your equipment on site to fully traceable standards. We are also able to provide labour-only services and one-off instrument calibrations.
No matter what your calibration requirements are, simply fill in our contact form or call us for more information.
Onsite Calibration Scope
Our team comprises of groups of expert technicians, each of whom has a different specialism in calibration. This means that no matter what type of tester you might have, we've got the right technician for the job. All calibrations are performed in accordance with national standards, so you know that any services carried out will be fully traceable.
Our calibration technicians are able to calibrate a wide variety of different equipment on site including:
Electrical test equipment calibration
Pressure transmitter calibration
Pressure gauge calibration
Gas meter calibration (industrial and domestic)
Flow meter and transmitter calibration
Level and tank calibration
This list isn't exhaustive, generally, we can calibrate any instrument on site that we would be able to calibrate in our laboratory. If you have a requirement that is not listed above, please contact us on 01642 626144.
About Onsite Calibration
We are often asked questions about UKAS calibrations on site – although it's not usually required – so here's a little further information on the subject.
There are several occasions when a calibration must be performed at the customer's premises and not in the permanent premises of the calibration laboratory. There is equipment that is quite large and fixed and cannot be moved. Truck scales, cranes, large containers, big ovens and refrigerators are some examples of such equipment that is impossible to be removed and sent for calibration. This kind of equipment must be calibrated on site.
There are also other instruments which are part of an installation and they must be calibrated as a whole where they may be part of an industrial process such as temperature and pressure transmitters, pressure gauges and flow transmitters and gauges. In industry, there are sensors and transmitters which are observed and controlled by control rooms. In these cases it is preferable to calibrate the instruments at the customer's premises on site.
There are also instruments that are very sensitive and their transportation to and from the calibration laboratory may cause damage or deterioration.
A large industry possessing many instruments that need calibration can call a mobile calibration laboratory or a laboratory with an onsite service to calibrate them. There are many benefits from onsite calibrations. Some of these are:
The calibration time is reduced and the time of a possible production shut down is minimized or even eliminated
Eliminates shipping costs
Avoiding possible damages and malfunctions due to mishandling during transportation
Calibration of the equipment within the environmental conditions where they are normally used
In order to better understand what the onsite and mobile calibration laboratories are, let's see how they are described by their definitions:
Mobile Calibration Laboratory
Fully equipped, self-contained, transportable calibration laboratory capable of performing calibrations under controlled environmental conditions. A mobile laboratory may be a main or branch laboratory and is subject to the same accreditation requirements. Usually a mobile laboratory is a fully equipped and climate controlled vehicle (truck or motor home).
Onsite Calibration Laboratory
An operation that is based in and/or directly supported by an established calibration laboratory facility, but that actually performs calibrations at customer locations. Onsite calibrations don't have fixed premises but they usually take place in rooms or other places provided by the customer for the calibration technicians.
Requirements for UKAS / ISO17025
Customers sending their instruments for calibration to permanent calibration laboratories usually prefer to choose laboratories which are accredited according to ISO 17025 " General requirements for the competence of testing and calibration laboratories". The same applies for onsite and mobile calibration laboratories. Don't forget that accreditation can ensure that the laboratory performing the calibration, has a well established and documented quality system, providing measurement traceability and valid calibration procedures.
The question that arises now is: "Are there any specific requirements for the mobile and onsite calibration laboratories in order to be accredited to ISO 17025 by UKAS?"
TPS 51 – Accreditation of Multi-Site/Group Laboratories
UKAS has published the document TPS 51 "Accreditation of Multi-Site/Group Laboratories" which describes the accreditation procedure for laboratories having one quality management system and performing calibrations in more than one location. According to this document the laboratories must:
Fully document the relationships between the locations and the extent of the interaction (e.g. allocation of testing/calibration work, transfer of samples between locations, movement of technical staff and/or equipment and centralised or otherwise rationalised reporting arrangements)
Have mechanisms in place to ensure that enquiries about work in progress are handled efficiently, regardless of any transfer between locations
Ensure that reviews of requests, tenders and contracts include appropriate consideration of clients' awareness of the way the organisation operates across the various locations
Have their accreditation scope clearly and unambiguously defined. The locations as well as the activities covered by the scope need to be identified
Ensure that schedules issued for multi-site testing/calibration organisations will identify which activities are conducted where.
The assessment procedure and the accreditation processes for laboratory accreditation are applied in both cases; either they regard one or more calibration sites. During the initial assessment and reassessment visit, the assessors will visit each calibration location, permanent and onsite or mobile laboratory. During the surveillance visits, it is to be expected that each location will be visited at least once in each four year assessment cycle.
General Onsite/Mobile Calibration Requirements
Although the UKAS TPS 51 document does not specify any special technical requirements for onsite and mobile calibrations, there are several documents worldwide which give some instructions on issues concerning accreditation of this type of laboratories. We can see below some of the requirements that need to be fulfilled:
Both mobile and onsite operations must address and describe steps employed to ensure proper transport and handling of equipment used to perform calibration, and of customer items received for calibration. Precautions must be appropriate for the equipment being transported and for the method of transport used
Both mobile and onsite operations must address environmental conditions, given the inherent lack of control over such conditions that may be experienced at customer locations. Precautions employed to prevent adverse effects on the quality of the measurement, caused by environmental circumstances, must be described
Estimation of uncertainty of measurement must take into account the typical conditions encountered at customer locations. If all onsite and/or mobile calibrations are performed in climate-controlled conditions, the estimation is likely be very close to that of the established laboratory. However, if the conditions are subject to significant variation, the uncertainty of measurement calculations may be considerably different from those of an established laboratory
The used standards before being put into use, must be examined by a routine control or, in the case that this isn't possible, they need to be checked before and after transportation to and from their own laboratory
The accredited calibration certificate must contain a very good description of the place where the calibration was performed (for onsite calibrations) and the exact environmental conditions during the calibration
Procedures shall exist for recording and reporting all results obtained in the field and shall be coordinated with the system operating in the permanent laboratory. Records shall be made in a permanent manner and maintained so that they are not obliterated by rain, humidity, spills, leaks or other environmental factors that may affect the immediate or future readability of the records
Procedures shall exist for ensuring the security and confidentiality of calibration data obtained and held in the field
Procedures shall exist for the supply and updating of calibration procedures required by the personnel performing onsite work.
Laboratories performing mobile and/or onsite calibrations, seeking accreditation, need to take into account all the aforementioned requirements. Of course each laboratory can adjust each requirement to fit its own quality systems, but basically each one of the requirements must be fulfilled in order to obtain UKAS / ISO17025 accreditation.
Written by Sofia